Hi Guys !
I've discovered CSF via Dan Flickr's Account and Put Your Brick Where Your Mouth Is 2 !
My name is olivier (oLaF) and I live in France. I'm 35 years old, married and 2 kids (my son 7 yeans totally addicted by the bricks and my daughter 2.5 years old, addicted too ! )
As lot of us I suppose I grew up with space classic lego and I've stopped bricking when I was 14. 3 years ago, a friend bought a lego for my 4 years old boy. We've started to moc together and now it's really a pleasure to share our new passion.
Since this date I manage a family blog around the moc of my soon and me (no news inside, TBB do it for us) :
http://legomaniac.canalblog.com/
All bricks belong to my son, and every bricks are in is bedroom.
I'm also a moderator on the french lego forum called BrickPirate and I manage a monthly contest called L13 :
http://www.brickpirate.net/forum/phpBB3/index.php
.
I do not really have favorit theme but I enjoy mocing SF (even is I'm not the best in this way). I hate trains and all my bricks are used for personnal constructions (instead of few SW sets of my son I can't touch)
Glad to join the commuauty !
Sorry for my poor english ....
my flickr here:
http://www.flickr.com/photos/lego13maniac
EDIT / I've just found my first moc of my new AFOL Life (july 2009)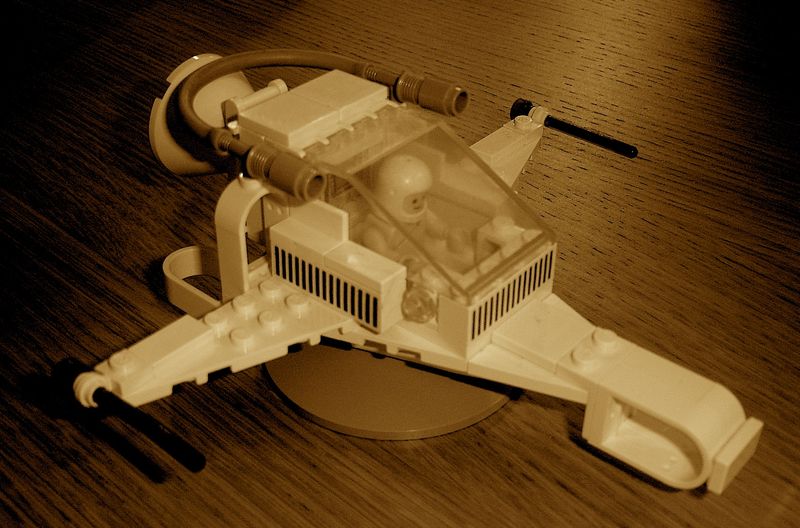 Sapce classic of course !